Here in this guide, we will talk about what is an Auto Clicker and why we need it in some games like Roblox and Minecraft.
An Auto clicker is a software build for both Windows PC and Mac OS. It is very useful in games like Roblox and Minecraft. The main purpose of Auto Clicker is to do automatic clicks during game-play. There are lots of games in Roblox where you need an Auto Clicker for continuous clicks. But they all are paid and require Robux and it is quite difficult to get some free Robux in the Roblox game.
More the clicks more the chance to explore a new world in Roblox Clicker games like Clicker Legends and Clicker Realms. They also used for the character's rebirth. That's the main reason, we need an Auto Clicker.
How To Use An Auto Clicker For Roblox?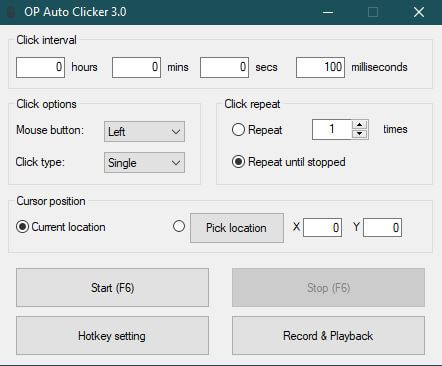 First, download any auto clicker application for your OS device. Where in my case, I am using OP Auto clicker for Windows 10. The best thing is, you don't need to install it.
Now, open it and click on Start (F6) button as you seen in the above picture. You can simply use F6 hot key to start or stop the program.
After that, open the Roblox game and your Auto clicker will start working.