Hello there! In this post, we are taking a look at Best Minecraft Seeds v1.16.4 that will create a small map for you. You will get every type of seed here for all consoles like PC, XBOX, PE, and Bedrock edition. These seeds will create an interesting and beautiful place that you can explore in Minecraft game.
You can also craft different things like houses, villages, and many more. We are also adding some key locations of ravines, biomes, villages, etc. So, you can easily get there in less time. Some seeds may be difficult to play for new players, so, they can start with lowering the difficulty level.
List Of Best Minecraft Seeds 2021
Here is list containing all the best seeds for Minecraft that you can easily enter in the game…
Minecraft Desert Seeds (For Bedrock & Java Edition)
Minecraft Villages and Coral Reef Seed
Visit this beautiful village and nearby coral reefs. There is also a mansion nearby that can provide you some free loots. In the villages, you can find some good places to take rest.
Seed – 673900667
Beautiful Valley Seed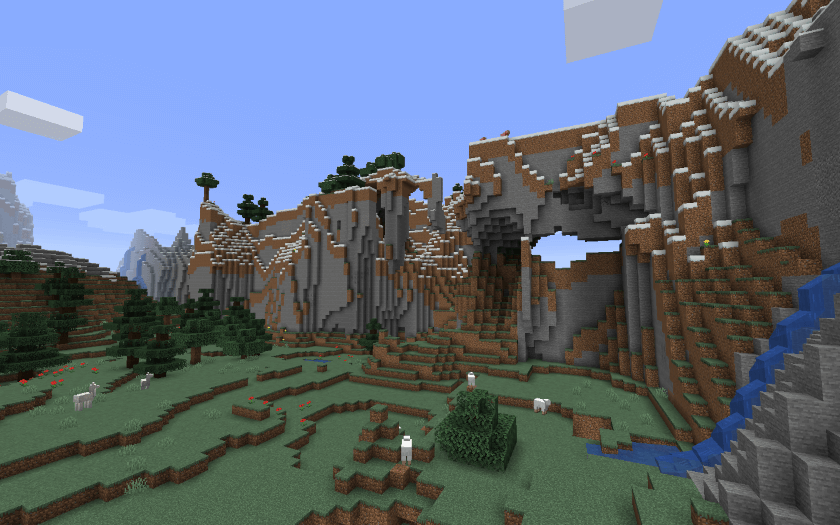 In this seed, you can visit nearby mines and get some raw materials. There is also a temple near the village where you'll find some tools.
Seed – 1556388534623276506
Minecraft Villages and Ravines Seeds
This seed will spawn you at a very interesting place in Minecraft as there are beautiful villages, ravines, and deserts also. At the place of spawn, you'll find some pigs and chickens. Visit the pyramid located in the desert for some loot. There are many ravines that you can explore near the island and a huge biome also. The crimson forest is also nearby along with the desert village.
Seed – 1260790447
River Intersection Seed
In this seed, different rivers intersect at the point where you will spawn which is a beautiful picture. You will also find a village where you can explore to get some loot. The Mountain Biome and the Witch hut are the main attraction of this seed. You will also find a ruined portal on the mountain and a birch biome in the forest.
Seed – 837628466
Minecraft Jungle Pyramid Seeds
This one will spawn you at a village near the Woodland Mansions. There are two woodland mansions that are very rare to find because you can find only one mansion at the place. But here, you'll find two at the same place that makes this seed one of the best. You can also find other village and a beautiful witch hut near the place of spawn.
Seed – 8993723640229201049
Minecraft Slime Farm Seed
This seed will spawn you at the slime farm where you can also craft clean farms. You can also find a village near the spawn and an underground cave. There are also wolves that wander close to the village, stay alert from them.
Seed – 7000
Minecraft Dark Oak Forest & Savanna Village Seeds
A beautiful Savanna village that is surrounded by the Dark oak forest makes this seed cool. You can craft different items and houses in the village. There are also ravines near the village and a desert too. In the desert there are villages that you can explore. Also check the large ravine and the pyramid in the desert.
Seed – 98141769
Obsidian Farm Seed
Large farm made of obsidian that are created very rarely. Here, you'll find villages with farm crop and Minecraft Nether Portals which allows you to change your dimension. There is also a lava pool to explore at the village that you can explore.
Seed – 8880302588844065321
Woodland Mansion Spawn Seed
Mansions are always a reason of attraction because of their beauty. In the seed, you'll spawn near a woodland mansion that you can explore. You can also find a village not too far from the mansion along with the shipwreck and ruined nether portal. There is also a village at the beach with dockyard that must be visited.
Seed – 1609055592099966422
Mushroom Island Seed
A beautiful island with lots of mushrooms and monuments that you can explore. There are also a village and an amazing mansion surrounded by mushroom trees. You will spawn at a place near the forest from where the village is not too far.
Seed – 2332439756294123069
Frozen Island Seed
You will spawn at a desert with a village and a beautiful pyramid. Locate the nearby island to explore where you can also find polar bears and some igloos. You have to survive among these and find essentials to stay safe. Also, search for the hidden monuments and mansions on the map.
Seed – 7865816549737130316
Shipwrecks & Villages Seed
This one will spawn you at the villages where you will find villagers doing their work. There are also quite large shipwrecks that you can explore and gain some loot. Also look for some boats to explore and find other places like mansions and monuments.
Seed – 613756530319979507
Mountain Cliff Seed
A beautiful mountain with a ship on the top and a lot of hidden treasure. You can also find waterfalls on the mountain cliff and nether portals. There are also different monuments in the ocean and villages near the biome forest.
Seed – 969535336
Minecraft Horses & Desert Village Seeds
In this seed, you will spawn at a place with plenty of horses and houses. There is also a desert village in the map that you can explore. You'll also find pyramids in the desert and a lot of items to loot there. Also, look for ravines and biome in the green forest as there are a lot of them.
Seed – 8678942899319966093
Blacksmith & Villages Seed
You will spawn at a place where a lot of horses and chickens are available. There is one village in the seed along with zombies that can hit you with great strength. There is also a pillager outpost and mansion in the seed that you can loot and get the free treasure.
Seed – 686298914