The Backpacking is a massive open-world camping game on Roblox store created on 22 June 2018 by the "Abracadabra" game studio. While this game is still in the Beta version that means, you can still expect some bugs and glitches during the gameplay.
If you ever want to go camping and enjoy the open sky with a bonfire then this game is for you. In this game, you can go camping with your friends and explore different places. There are many things, you can do in this game like fishing, boating, vehicle riding, and enjoying a beautiful lake-side sunset view. During your expedition, you will find many forest animals like deer, bears, and squirrels. You can also take part in camping events every day and earn a Marshmallow which is the virtual currency of this game. With it, you can buy many items like tents, bonfires, chairs, cars, Marshmallow sticks, bear spray, a basic campfire, etc.
Marshmallows can be earned by completing game daily events and by selling ice cream with other players. The Backpacking developers also provide some game codes that help you to earn some free Marshmallow coins.
How-To Play The Roblox Backpacking?
If you are new to this game then follow this gameplay guide to know how to play backpacking.
Firstly, open the game and choose your tent and vehicle color. After this, you can't change your tent color so pick one that you like most.
After that, you will appear in a "Lobby Lodge" room where you meet with other camping girls and boys.
Now choose your vehicle first it is a "Mini Van" that is free for every player. Press "E" to enter the driver's seat. You can also give a car ride to other players.
After doing all this go to your destination where you want to set up your tent and enjoy the beautiful lakes, snow mountains, volcanos, and Kayaking in rivers.
Backpacking Tents, Cars & Gears List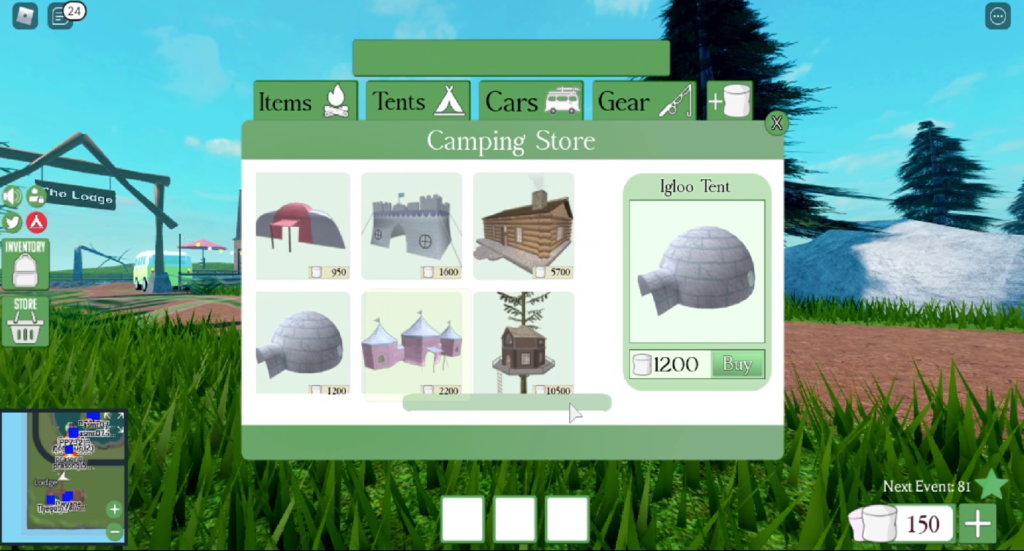 Below is the list of all tents, cars, and gear that you can buy…
| Tents | Marshmallow | Cars | Marshmallow | Gears | Marshmallow |
| --- | --- | --- | --- | --- | --- |
| Basic Tent | 150 | Basic Car | Free | Marshmallow Stick | 50 |
| Medieval Tent Blue | 400 | ATV | 1000 | Bear Spray | 200 |
| Bell Tent | 500 | Ice Cream Truck | 2500 | | |
| Rectangular | 800 | Super Car | 5000 | | |
| Multi Tent | 950 | Jeep | 2000 | | |
| Igloo Tent | 1200 | Compact RV | 3500 | | |
| Castle Tent | 1600 | | | | |
| Log Cabin | 5700 | | | | |
| Palace Tent | 2200 | | | | |
| TreeHouse | 10500 | | | | |
Backpacking All-Game Badges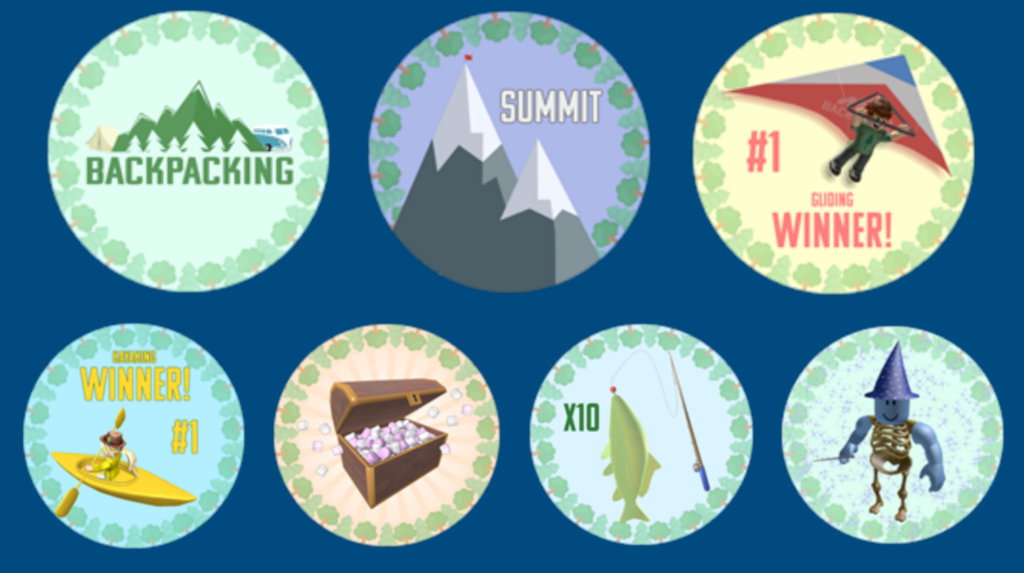 There is a total of seven-game badges in Backpacking, you can earn them by completing some game missions and levels…
| Badges | Mission | Rarity |
| --- | --- | --- |
| Backpacking | Play the Backpacking game for the First Time | Easy (63.5/100) |
| Summit badge | Climb to the highest point in the game | Insane (1.7/100) |
| Gliding Winner | Finish first in a gliding race | 0.0% (Impossible) Best Of Luck! |
| Kayaking winner | Finish first in a Kayaking race | 0.0% |
| Treasurer | Find a hidden treasure chest and redeem those mallows | Extreme (8.2/100) |
| King Fisher | Catch 10+ fish in a single game session | 1.1% Very Rare Chances |
| You met Abracadabra Studio | Meet With Abracadabra Studio Member | 0.0% (Impossible) Best Of Luck! |