To get Rick's Boom Box in the Roblox Vehicle Simulator, you have to complete many tasks to get the Boom Box. That is why we have tried while making this guide that you should know everything at least and in the right words. All you have to do is stay with us till the end of this guide.
Points To Remember Before We Start…
This task will be completed only in the Vehicle Simulator game.
You must have the CMD Hovercar in the game. If you do not have one then purchase it first in the game. The cost of a CMD Hovercar is $1985.
If you don't have enough cash to purchase vehicles then use our Vehicle Simulator Codes to get some free cash.
How To Get Rick's Boom Box?
Follow the given steps to get the Rick's Boom Box…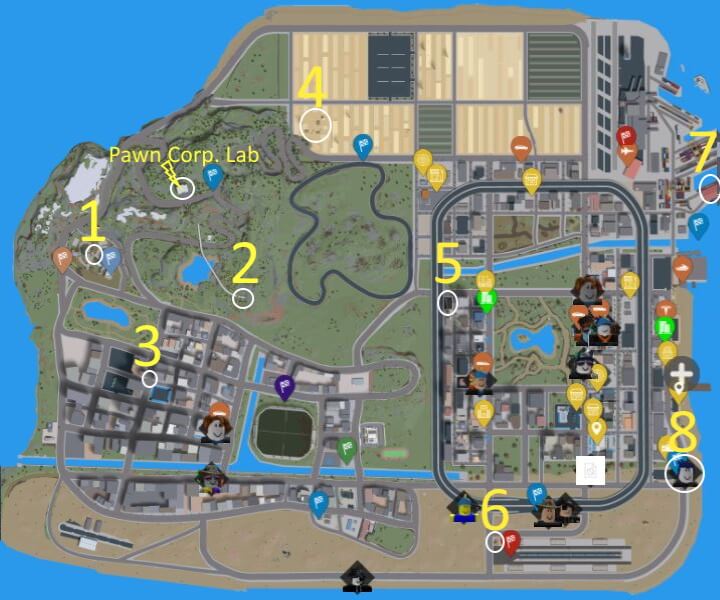 Firstly, drive your CMD Hovercar to Pawn Corp. Laboratory. It is near the radio tower and the important point of the task.
Enter the laboratory and stand in front of the vending machine. Press the keys of the machine in the exact order given below.

Chocolate, HotDog, Cola Drink, Pink Donut, Glazed, HotDog, Cola Drink.

When you enter the code, the office desks rise in the air and make a kind of elevator. Go inside it and that elevator will take you down to the underground room.
You'll find Pawn Labs AR Goggles on the floor there, Pick them up and turn them on in the settings of your mobile.
After that, you need to find out the 8 hard drives hidden in different places on the map. Below is the location of all the hard drives on the map.

"Harvest" Hard Drive
"SkyHigh" Hard Drive
"Bon Bon Bon Fire" Hard Drive
"Paper" Hard Drive
"Commerce" Hard Drive
"Emergency" Hard Drive
"Shipyard Container" Hard Drive
"Gotta Go Fast" Hard Drive

When you collect all the hard drives, visit the Pawn Corp. Laboratory, again and enter the same code in front of the vending machine.
Go down there, you'll find out the closed door is now open. Move downstairs and take a left when you reach the bottom.
There is a green liquid on the road, don't walk over it. You can move by the side of the path or use the car to pass the road.
When your path comes to an end, there you will find a computer. Enter the "1985" password on the computer so that the rocket door will open.
Enter the rocket before the launch and enjoy the free ride.
After that, you'll be rewarded with the Boom Box player.