We are here to help you in "How to Get Tier 2 Insect Axe In Grounded". To upgrade your Axe, you just need to kill some angry insects like ladybug, spiders, and bombardiers. In this post, we will tell you how you can easily kill these bugs and upgrade the Axe.
Requirements To Craft Insect Axe
You will need the following items to craft the insect axe…
1 Ladybug Head
3 Bombardier parts
4 Spider silk
You will need a workbench to craft the Insect Axe. If you don't have workbench then craft one first with our guide 'How To Craft Workbench in Grounded'.
After that, you have to kill a ladybug that is an angry insect in grounded. It will not harm you till you do not interact with it. In starting, you may find it difficult to kill the lady bug. So, you can use some tricks to kill it easily like you can confuse it by jumping around it. And you can also trap it at a place where it can not moves like grass plants or flower plants.
Now, you need to kill a bombardier that is a dangerous beetle because it is capable of throwing acid. If you tries to kill it with bow then it can also throw acid on you that will reduce your health. You can find them on the lake side or on the south-west of the map.
For the spider silk, you need to find the spider cave or find it near the Oaktree. Take your Pebblet Axe and hit the spider web to get the silk.
How To Craft Tier 2 Insect Axe in Grounded
Firstly, take the collected items to the Research Center and analyze them. It will give you more crafting items and adds the Insect Axe in the crafting menu. Then go to the Workbench and open the crafting menu then select the Insect Axe. Click on the "Craft" button and your axe is now ready to attack the enemies.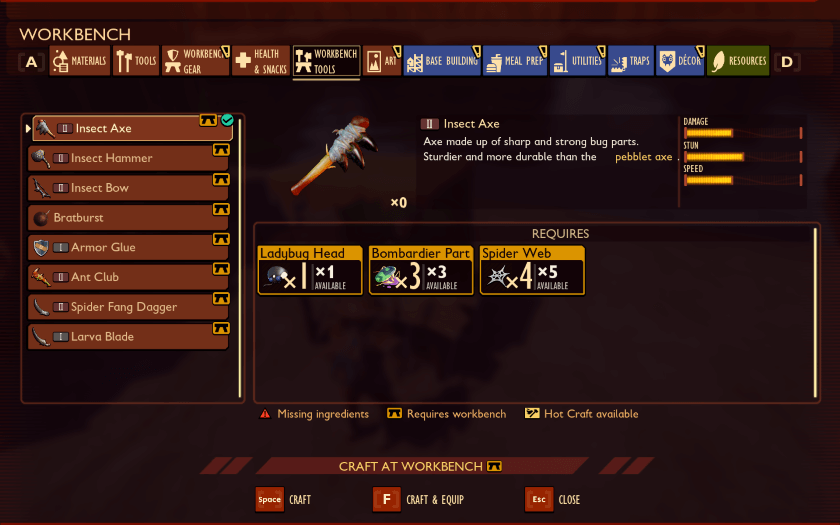 We hope that this guide will help you in crafting of Insect Axe. If you find any problem in the post, please let us know.