Hello Guys! Welcome to another game guide of an all-new Roblox game that is "Beeface – Be A Bee".The BeeFace is completely a funny and enjoyable game created on 2/18/2021 by the "StealthWhale" game studio. In this game, players have to collect pollen from the different flowers in the field and enlarge the field.
To enlarge the field, players will need honey to build the small portions of the first world. Players can make honey at the Honeycomb in the middle of the area. Firstly, collect some pollen and visit the honeycomb. It'll automatically convert the pollen into honey. The converted honey will be half of the amount of the pollen you have collected. (2 Pollen = 1 Honey)
When the player starts to enlarge the field, he will find different kinds of eggs like surprise egg, common egg, and more. Each of the eggs contains some gift for the player as pollen, honey, or worker bee. Worker bees will help the player in collecting pollen and making honey.
Basic Steps for Beginners | How To Play The Game?
Here are some steps or points that a new player will remember while playing the Roblox Beeface game…
Collect pollen from the flowers and make honey at the Honeycomb.
New flowers are found when you expand an area and discover new land.
Different types and colors of flowers give different amounts of pollen.
Eggs are important because they provide some free rewards or gift-like, pollen, honey, and bees.
Worker bees collect pollen from a flower and convert that to honey.
Honey can be said the main currency of the game because you can expand the area and enter the next world with honey.
Different Bees In "Beeface: Be A Bee"
This game has come with five types of "Worker bee" till now. Each of them has different colors as well as unique abilities.
Common Bee
Epic Bee
Mythical Bee
Rare Bee
Legendary Bee
| Bee | Type |
| --- | --- |
| Yellow Bee (Worker Bee) | Common |
| Cyan Bee | Mythical |
| Orange Bee | Rare |
| Pink Bee | Legendary |
| Red Bee | Epic |
Worker Bee has different color variations in the game. To get a bee, the player has to hatch or break an egg that'll lead him to have a bee. When the player gets a bee, it will help him to collect more pollen and honey. While bees collect pollen from a particular color flower, for example, the red bees will collect pollen from red flowers and the yellow bees will collect from yellow flowers.
Note: When you travel to another world your worker bees of the previous world will not come with you, because they belong to that world, not to the new world.
Below are some characteristics and purposes of Bees in the Beeface game…
Bees collect pollen and make honey.
Each bee has its own speed of collecting pollen.
Some bees collect pollen from specific flowers like the red bee collect only from red, purple, and blue flowers.
After collecting the pollen, they move through the edge of the field or area.
Sometimes, they can irritate you in coming your way.
All "BeeFace" Bee Eggs
There is a total of 4 types of eggs in the Roblox BeeFace game. Eggs are the most important part of the game because they give you sometimes worker bees, pollen, and honey as a reward. These eggs can be found when you will spend honey for a new honeycomb and it could be one of the 4 eggs, we mentioned below. As your "honeycomb" plot will increase, more honey it requires.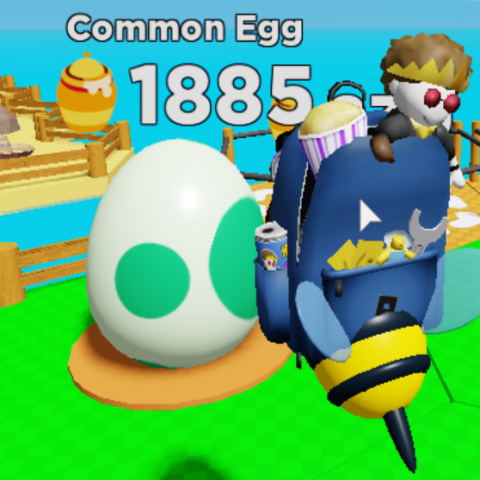 Common
Epic
Rare
Surprise
Common Egg
This is the most common egg in the game that needs less honey to hatch. It produces mostly worker bees of different colors such as Yellow, Orange, and Red.
Epic Egg
As its name tells, it produces mostly the best worker bees such as Pink and Red bees. While this egg required more honey to hatch. You can get a Pink bee (legendary bee) in Candy land (World 4).
Rare Egg
This is the most honey-demanding egg in the BeeFace game that requires 2132 honey to hatch. It can give you rare bees as well as some flower pollen as a reward.
Surprise Egg
This egg can give a surprise when you will hatch it. Because it can produce a worker bee or lots of free honey. Surprise egg has light blue circular spots with white background.
How-To Travel In BeeFace Game?
To travel in different worlds in "BeeFace", you have to first complete your "World 1" plot as you see in the given picture below. Where my first-world plot has been completed. Now break the last purple egg to open a portal and then, you can travel to the next world.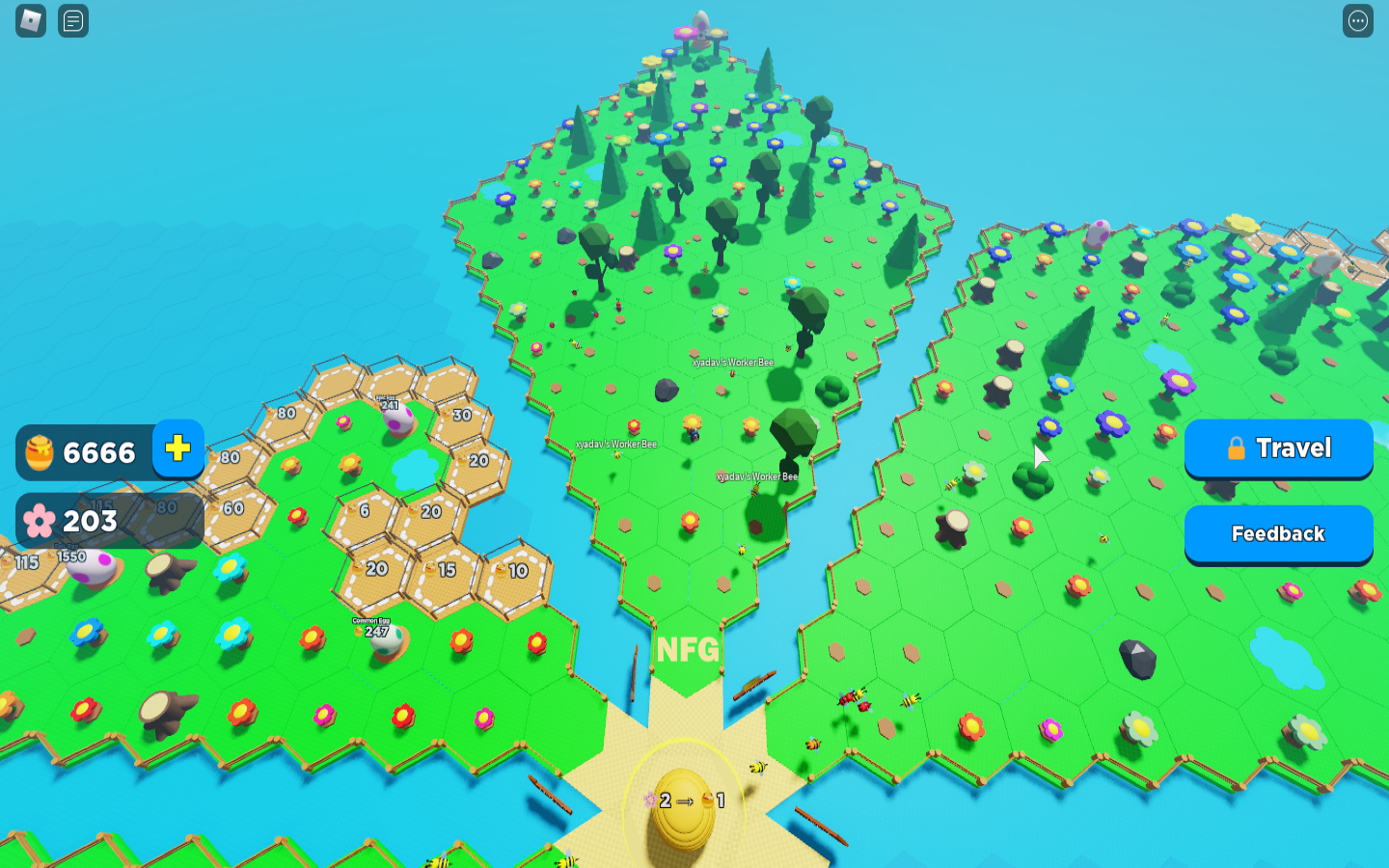 There is 9 world in the "BeeFace" game right now where you can travel and collect pollen to make lots of honey. Each world has different themes, for example, world 1 has a green theme where you can see pine trees, sunflowers, red roses, pink roses, and etc. While world 2 has a desert theme with lots of cactus and coconut trees.
All Beface Game World To Travel…
Bee Meadows (World 1)
Desert Oasis (World 2)
Winter Wonderland (World 3)
Candy Land (World 4)
Jungle Route (World 5)
Moon Landing (World 6)
Toy Room (World 7)
Enchanted Forest (World 8)
Ocean Breeze (World 9)
Game Upgrades!
There are so many game upgrades in the "beeface" by with you can upgrade your worker bee speed, honey conversion rate, player speed, worker bee capacity, etc.
| Ability | Detail | Honey Required |
| --- | --- | --- |
| Player Speed | Increases Player speed by 1x | 900 |
| Beehive Honey Conversion Rate | Will increase your honey conversion rate | 900 |
| Worker Speed | Increases all worker bee speed | 1.8k |
| Worker Capacity | This will boost the bee's pollen capacity | Will Unlock At World 3 For New Player |
Game Description!
🐝 Experience the busy life of a bee!
🍯 Collect pollen, turn it into honey and expand your plot!
🌸 Thousands of flowers await you!
👑 Show your skills and become the Queen Bee!